2014 Freightliner Cascadia Reefer 98" Custom Sleeper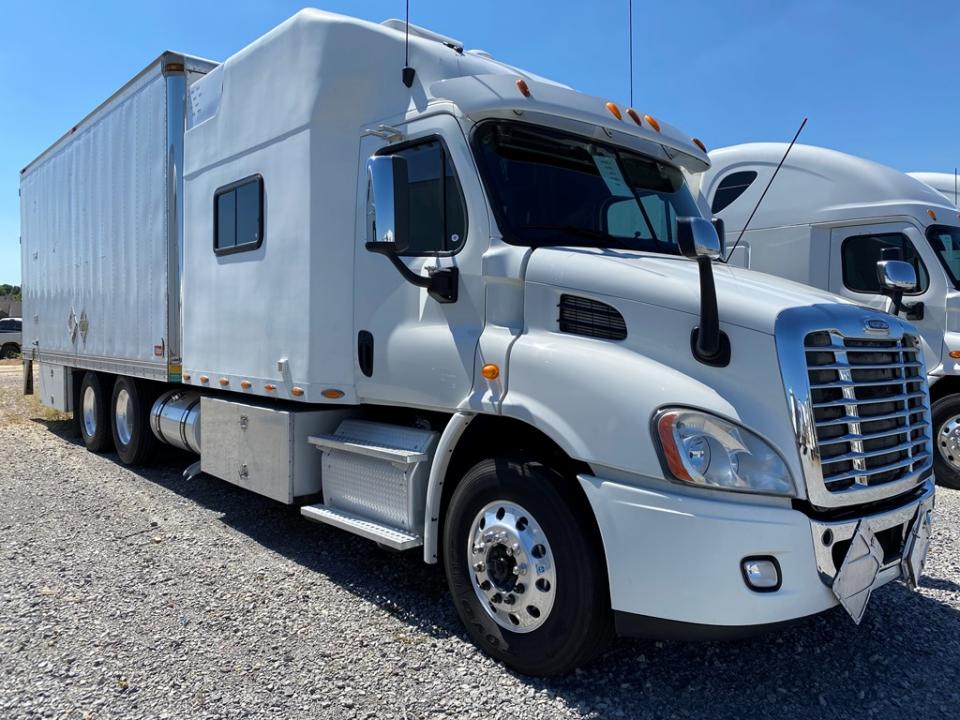 Vehicle Information
| | |
| --- | --- |
| Stock #: | 3123ESa |
| Serial #: | 3ALAGADV2ESFV2810 |
| Year: | 2014 |
| Make: | Freightliner |
| Model: | Cascadia |
| Trim: | Reefer 98" Custom Sleeper |
| Condition: | Used |
| Category: | Heavy Duty |
| Subcategory: | Heavy Duty |
| Mileage: | 720,555 miles |
| Price: | $59,900.00 |
Dealer Information
Expediter Truck Sales
5959 Pepper Chase Dr
Southhaven, MS 38671
Email This Dealer
Email This Dealer
Chassis Details
| | |
| --- | --- |
| Front axle capacity: | 12000 |
| Rear axle capacity: | 21000 |
| Rear end ratio: | 3.21 |
| Body type: | ... |
| Frame: | ... |
| Length: | ... |
| Height: | ... |
| Suspension: | Air Ride |
| Axles: | 3 |
| | |
| --- | --- |
| Exterior color: | White |
| Interior color: | ... |
| Sleeper: | 98" Custom Sleeper |
| Doors: | Swing |
| Fifthwheel: | ... |
| Front wheels: | Alum |
| Rear wheels: | Alum |
| Wheelbase: | ... |
| Tire size: | 22.5LP |
Engine Details
| | |
| --- | --- |
| Engine make: | Detroit |
| Engine model: | DD13 |
| Engine brake: | Yes |
| Drive train: | ... |
| Transmission: | Automatic |
| Transmission make: | 10spd Ultrashift |
| | |
| --- | --- |
| Fuel type: | Diesel |
| Top speed: | ... |
| Horsepower: | ... |
| Torque: | ... |
| Towing capacity: | ... |
Description
OWNER TRUCK FOR SALE!!
2014 Cascadia FedEx TVAL Dual Axle
2014 Freightliner Cascadia with AA 98" Custom sleeper.
Reefer unit, engine brake. Carrier Comfort Pro Power Inverter & APU. Lift Gate. Tilt & telescopic steering. Coleman Rooftop Air Conditioning Unit Microwave and cooktop. Laminated hardwood floors. Single short queen bed. Side by side refrigerator & freezer. Dinette table with 2 bench seats.
Features
...